Many Thanks To Simon Robinson For This Article On Cozy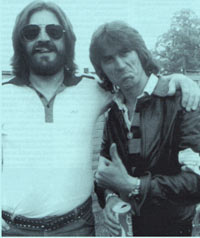 The sudden death of drummer Cozy Powell was a shock to us all in 1998. As an Ian Paice fan of some six years or so, Cozy's arrival on the Purple scene in 1976 was a jolt to the system. I'd heard some of the early Jeff Beck tracks which were Cozy's first main studio recordings - but wasn't really aware of who he was at the time. Likewise much of his jobbing session work for people like Julie Felix and Donovan was well away from my own musical interest, so all I really knew Cozy for were some of his RAK singles, and I just couldn't see how it was going to work. Blackmore of course knew exactly what he wanted and, as he honed his vision for Rainbow over the late summer of 1975 - aiming to forge a cross-over between Zepp and Purple - who better to help him fulfil that vision than Cozy Powell? Long-serving DPAS man Ernie Tull summed it up best when he described them to me back in the late seventies as "nailers".
Playing along to pre-recorded backing tracks also went against the grain in the early RBAS days, but Cozy was out to provide a spectacle for the audience. And it has to be said that the image of Cozy behind his huge kit, synched up to the 1812, with lights and fire-works in full flow, will never be forgotten. Nor will a night when it all went wrong, and Cozy actually man-aged to bring it all off despite the collapse of his backing tracks! But that aside, it was as a powerhouse anchor for Rainbow in their classic incarnation that Cozy should and will be best remembered by those of us lucky enough to have experienced them live in 1976 and 1977. For ourselves we actually only met Cozy briefly a couple of times, getting autographs outside the old Rainbow theatre prior to a Rainbow at the Rainbow gig, and then - of all places - outside the Birmingham Odeon while we were waiting for the members of Paice, Ashton and Lord to show up for the show in 1977. If I remember rightly, Cozy wasn't even supposed to be in the country at the time because of tax implications, but it didn't stop him having a natter and posing for a snap beside the sleek vehicle he'd driven up for the show in. "Stargazer" was never the same once he'd hung up his Rainbow badge and scarf.
The other trait one really had to admire about Cozy was his willingness to stand by his musical principals. He'd give something a go, and if he felt it wasn't working for whatever reason, he said so. Thus it was that he knocked the Mickie Most hit machine on the head to take a far less successful route with Hammer. When Blackmore began increasingly to sell himself and his fans short in Rainbow with chart bound AOR gems such as "All Night Long" and their ilk, Cozy walked. He'd nothing particularly against the material, but he knew it wasn't right for Rain-bow, or for him. Even more recently, when things began to go wrong in the Peter Green Band, Cozy knocked it on the head when he realised nothing he could do was going to put it right.
Of course, apart from Rainbow, Cozy returned to the Purple scene a little later on with Whitesnake. David Coverdale wasn't slow to realise Rainbow had made a serious error in losing the guy and after Whitesnake began to fall apart, Coverdale wasn't slow to poach Cozy for his own hand. Cozy had cut a couple of solo albums and been working with Michael Schenker in the aftermath of Rainbow but the chance to hook up with Coverdale produced one of the best Whitesnake albums of them all, "Slide It In" - with Cozy's contributions brought out to their best advantage on the incredible US remix of the album. While the Rainbow albums he cut will probably remain his best loved work, I have an enormous amount of time for his contributions to what I regard as the last of the true Whitesnake albums. He also did much of the groundwork for the "1987" album but walked out when his agreement over the deal was altered, leaving his replacement Aynsley Dunbar to try and re-record his drum parts. Outside these main areas, Cozy was always popping up on sessions involving Deep Purple and family members, and his work could be heard on solo albums by Bernie Marsden (unsurprising since they'd worked together in Hammer) and Graham Bonnet. Jon Lord's 1983 offering "Before I Forget", the off the wall "Phenomena" project from the Galley brothers (with Glenn also involved), and the various Forcefield albums cut for Japan. Cozy also took part in the Superdrumming shows made by Pete York for German TV and later issued on disc.
The bare facts of his death were made all the sadder by the impersonal newsagency manner in which 90% of the media tackled the story, churning out the press release in as sensational a way as they possibly could in order to get some mileage out of the "rock legend" angle. Most of the journalists - and one suspects the readers - probably hadn't a clue who he was, for he certainly never played up the superstar role.
photo: John Bonham with Cozy Powell